Designed by John Robertson Architects (JRA), the refurb has preserved the Grade II-listed façade of the original 1920s building to include extending two upper floors and three landscaped roof terraces featuring extensive urban green areas to promote biodiversity. The Northcliffe's semi-industrial aesthetic is maintained throughout, with exposed steel frame elements and semi-exposed ceilings.
"Structurally, it's been a really exciting project for our team, breathing new life into the scheme we previously worked on in the 90s", said Waterman's Structures Director Helen Blacker.
"We worked closely with the whole project team from the outset, carefully collaborating our design interventions to meet the scheme's ambitions but stay true to the building's rich heritage. The team liaised with local businesses, residents, and City of London Corporation officers to ensure this latest chapter in the building's life was a success."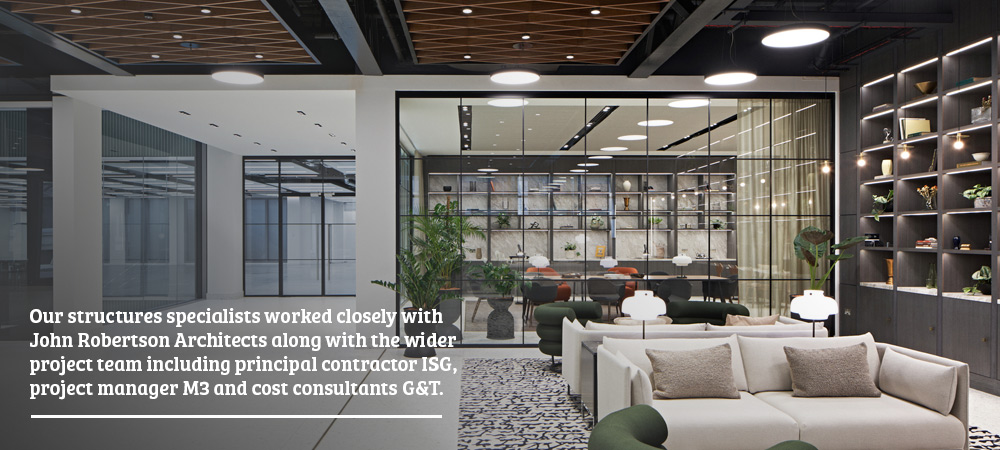 Set across seven storeys, the workspace covers approximately 200,000 sq ft, with terraces totalling 9,800 sq ft, all designed with sustainability at the forefront. "Focusing on keeping as many of the key structural elements as possible, we retained the existing super structure, the foundations and the Grade II-listed façade to minimise embodied carbon", Helen adds.
The newly glazed atrium is a striking central feature in the building, designed to allow for natural daylight to reach the office spaces across all upper levels.
"Our efforts focussed on minimal strengthening to the 1990s steel frame, along with several structural changes including vertical extensions and modified floorplates with circulation routes being centred around a reimagined atrium space."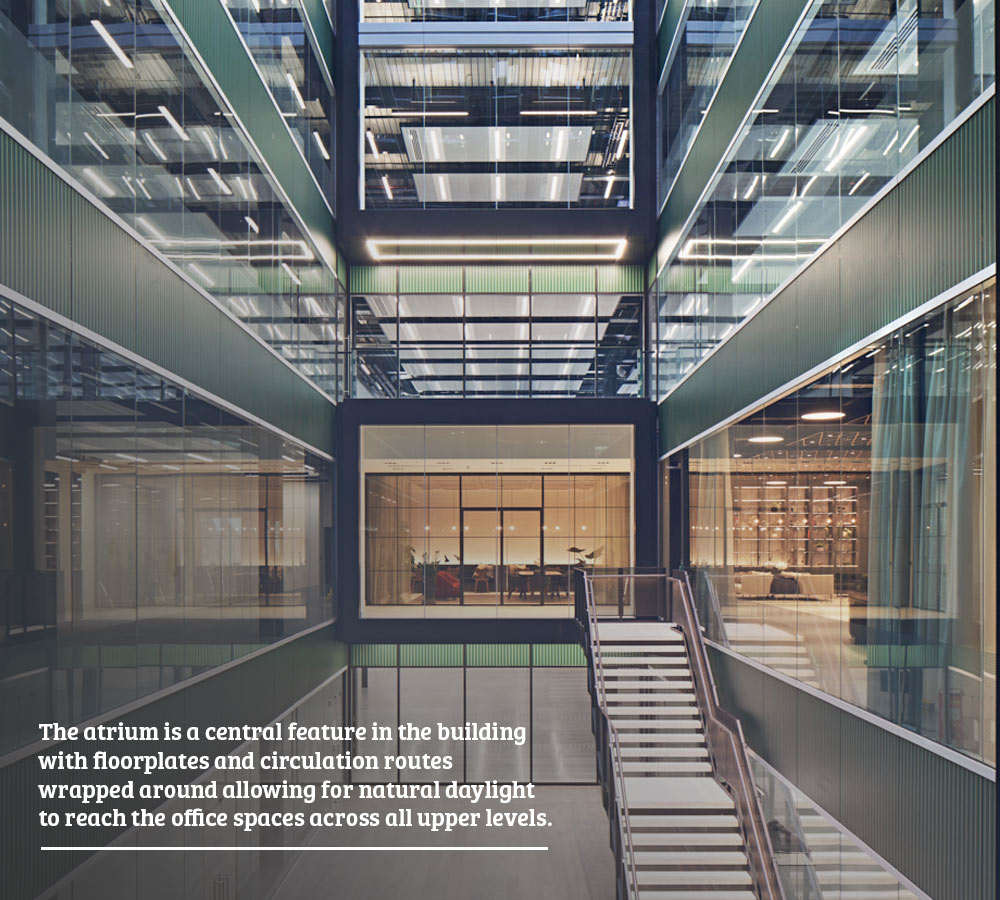 The main entrance, originally located on the corner of the building, is now centrally positioned and remodelled to incorporate a café, breakout areas, library, meeting room, and an internal access to a retail unit that opens onto Tudor Street.
The listed 1925 façade exudes the charm of a pre-war department store with its embedded cast steel frame and Crittal-steel windows. Elsewhere, the fifth floor's original octagonal turret has been repurposed, offering tenants a flexible amenity space that leads onto a landscaped roof terrace.
The scheme has been delivered as WELL 'Ready' and achieved a BREEAM 'Outstanding' rating. It incorporates simultaneous heating and cooling through air source heat pumps, enhanced wall and roof insulation, and new PV panels at roof level.
Designed with wellbeing in mind, the premises boast 31 high-spec showers and changing rooms, complete with 325 lockers at basement level along with over 342 cycle parking including dedicated cycle lifts.
Etain Fitzpatrick, Director of JRA highlighted the importance of collaboration in this project: "Working with Waterman, who worked on the previous refurbishment of the building, was key to the success of the project. Helen and her team were able to quickly identify the design parameters and provide innovative and cost-effective solutions for the new extensions to the building."
Helen sums up the project with pride, saying: "The Northcliffe demonstrates that refurbishment has a significant role to play in delivering a Net Zero built environment. It highlights how exceptional outcomes can be achieved by taking an innovative approach to design, even dealing with the constraints of a retained listed facade. Our team relished the opportunity to return to Tudor Street after 30 years, breathing a new lease of life into this iconic building, and it was a real pleasure to work so closely with the highly creative project team."
Images Courtesy of GG Archard