Transport and Infrastructure
Our experts are passionate about connecting communities with sustainable, high quality infrastructure networks that leave a positive legacy for future generations.
We provide leading edge professional, multidiscipline advice on a wide range of infrastructure projects covering highways, rail, marine, aviation, and commercial development. Infrastructure has a key role to play in our journey to achieving net zero and, as a result, climate resilience is at the core of our innovative design solutions.
Our award-winning team of transport planners, civil engineers, flood risk and environmental specialists work collaboratively with both private and public sector clients across the UK to deliver their visions.
Find an Expert
Click search below to find our closest match.
Key Services
Acoustics, Noise & Vibration.
Air Quality.
Archaeology and Built Heritage.
Bridge Engineering.
Contaminated Land Assessment.
Ecology and Biodiversity.
Drainage Strategies and Design.
Earthworks Design.
Environmental Impact Assessment.
Flood Risk Assessments.
Geotechnical Engineering.
Health & Safety and Principal Designer Services.
Highway Engineering.
Infrastructure Business Case.
Landscape Architecture.
Rail Services.
Temporary Works Design.
Transportation Planning.
Transport & Infrastructure
Situated in key locations across the UK, our team of Transport and Infrastructure experts have a wealth of knowledge spanning projects of every size and sector. Our innovative team of technical specialists, scientists and engineers is dedicated to delivering climate-resilient developments and connecting communities with sustainable, high quality infrastructure networks.Trans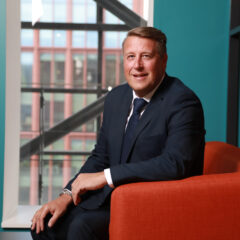 Andy Ferguson
Managing Director,
Infrastructure and
Environment