With the development industry forging a path to net zero carbon by 2050, the sector is striving towards reducing operational carbon emissions.

Waterman's Managing Director for Structures, Richard Whitehead, said that addressing embodied carbon is already high up on the agenda: "UKGBC's research found that while a third of a building's carbon footprint comes from operational energy consumption, the remaining two-thirds are a result of the building's initial design, procurement and construction, together with its ongoing maintenance and adaptation. Tackling the embodied carbon of an office's base build and future adaptation is the next major hurdle for our industry. I believe that repurposing and repositioning existing buildings is the best way of economically recycling dated commercial offices, whilst reducing delivery programmes and minimising embodied carbon to create stunning facilities from the most modest of beginnings."
Through their RetroFirst campaign, Architect's Journal lobbied the government to incentivise the retention of existing buildings by scrapping the 20% VAT levied on building refurbishment, maintenance and repair. New build developments are not subject to VAT, a factor which can often swing the balance away from repurposing a building and towards the construction of a new one. The campaign's evidence, presented to the Commons Environmental Audit Committee (EAC), highlights the scale of carbon emissions from creating construction materials when compared to those associated with repurposing existing buildings. Responding to the campaign in a recent interview with BBC News, EAC's chair, MP Philip Dunne, said: "Prioritising retrofitting can offer huge benefits. It enhances energy efficiency and boosts skills and green jobs quickly in the UK. It will be a crucial component for us to move to a low carbon economy."
Welcoming the EAC's response, Richard commented: "This could be crucial to unlocking the potential of the UK's existing building stock. If VAT was to be scrapped on retrofitting, it could see a wave of refurbishment opportunities across all types of building, providing a much-needed financial boost for the sector while presenting a huge opportunity to reduce embodied carbon emissions."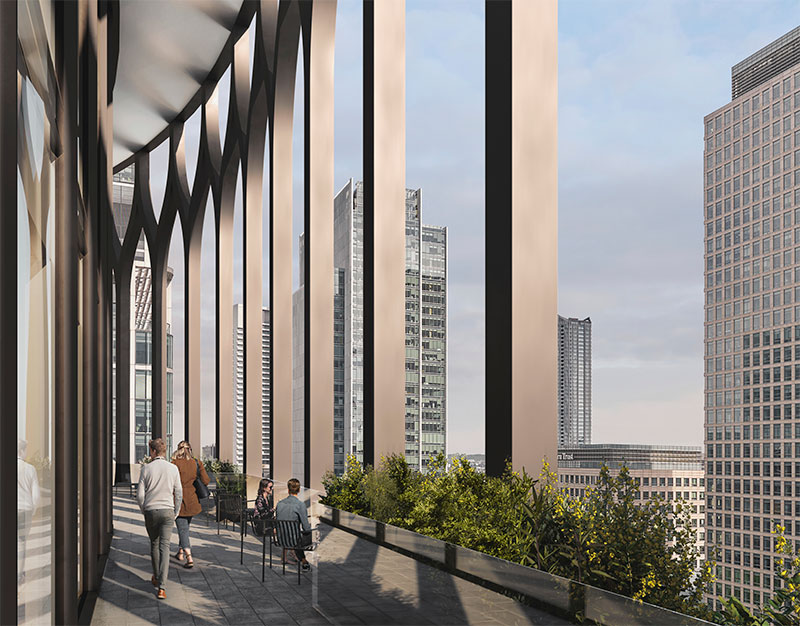 The importance of retrofitting to regenerate existing building stock crosses all aspects of the built environment. Perhaps one of the most significant misconceptions is that older builder stock cannot become energy efficient, but with the government's commitment to 'greening the grid', the application of electric-driven heat pump technology on carbon emissions is often underestimated. Mark Terndrup, Waterman's Managing Director for Building Services – South, stated: "By replacing conventional fossil fuel boiler-based heating systems with heat pumps as part of a refurbishment, carbon emissions from space heating in a typical commercial office can be cut substantially. Coupled with the addition of high-efficiency heat reclamation on ventilation systems and the replacement of fluorescent lighting with LED lamp technology, the overall carbon emissions are typically cut by over 50%. These are relatively simple systems to retrofit as part of a building upgrade and can make a huge impact on both the EPC rating and energy bills."
With interventions on existing facades often seen as too complex when trying to improve a building's carbon footprint, Mark said: "Generally, the best value is achieved through window replacements rather than complex enhancement of roof and wall insulation. In the context of a typical façade, the windows are the major source of heat gain and heat loss. By investing in high performance replacement glazing, annual energy use can be cut by as much as 50%. Applying this to the recent One Gray's Inn project saw the EPC rating slashed from a Grade E to B, and at One Bow Churchyard, energy consumption will be cut by 55% when the project is completed."
To maximise the overall impact of retrofitting, Waterman's structural specialists appraise existing buildings to help get the best out of them. Richard said: "Using 3D technology, we can analyse an existing building's structure, assess what is there and design a new facility around this. This allows us to massively reduce the potential embodied carbon of a project when compared with complete demolition and rebuilding from the ground up. We've applied this concept to a diverse array of commercial office assets. From historic, listed buildings through to more recent properties constructed in the late 1990's, we've utilised existing structures to reduce embodied carbon and deliver outstanding new facilities that meet the needs of modern occupiers."
As planning policy continues to evolve over time, it has enabled an increase in height and massing for many buildings. By carrying out 3D computer analysis of an existing building's structures – which was often not a possibility when these buildings were first designed – opportunities for retaining much of an original structure can be realised, often with only minimal structural strengthening required. The benefits of this approach also include minimising the need for alterations to existing basement and foundations, reducing project risk and eliminating the need for archaeological works or groundworks.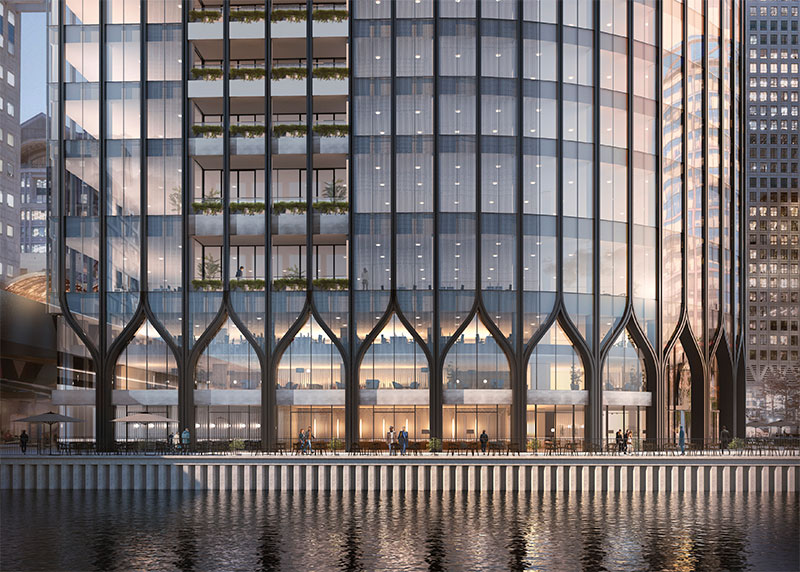 To accompany this structural analysis, Richard said: "We are simultaneously carrying out advanced geotechnical investigation of the structure/soil interaction on these projects to justify load increases on the foundations, and to demonstrate that the changed loadings will not cause issues with local infrastructure or neighbouring buildings."
Such detailed early design input can be invaluable where there is a lack of building records, allowing structural engineers to calculate any available capacity within the existing structural frame. This often occurs as a result of changes in design codes and standard practice over the years. A common example of this are historic underestimates of permissible steel stresses, which can be improved and justified by testing and sampling.
The extent of structural intervention has to be considered project by project. The light touch approach sees the greatest reuse of existing structure but there are also often substantial gains to be made with partial demolition and partial re-use where it helps future proof and increase building longevity.
Richard commented: "An excellent example of this was seen at the award-winning Angel Court development in the heart of London's financial district next to the Bank of England. Here, floor plates were removed and reconstructed around a retained core. Our analysis enabled extra floor area to be added at each level of the building along with additional tower-top levels. This was all constructed on the original foundations and concrete core, minimising the programme whilst reducing material usage and driving down embodied carbon."

Elsewhere, at Garrard House on London's Gresham Street, Waterman's team identified the inherent capacity associated with the plantroom structures which in turn facilitated the construction of two additional floors as part of the M&E reconfiguration. Detailing the impact of taking this approach with the redevelopment of Garrard House, Richard said: "We were able to maximise NIA on the site, adding almost 11,000 ft2 and increasing amenity space and terraces. Creating these dynamic spaces offers a range of informal areas which greatly enhance the building user's experience. Increasing outdoor and amenity space provides a massive boost for wellbeing and makes this a special place to work."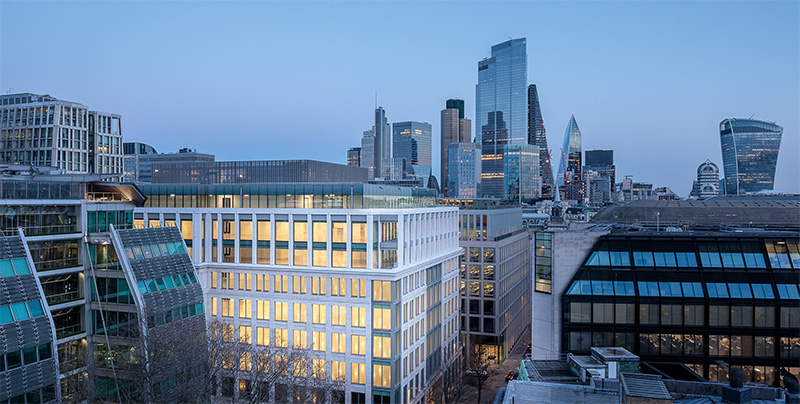 Similarly, at Canary Wharf's Buckley Gray Yeoman-designed YY London, advanced analysis was utilised in the early stages of the project to allow the addition of two floors at this iconic building. Richard said: "Without the need for new foundation works, we are delivering over 100,000 ft2 of extra GIA through the assimilation of significant superstructure alterations with the existing structure."

Working alongside developer, CO-RE, our team again employed this strategy on a large scale at both 6 Bevis Marks and Watermark Place. Richard said: "For both projects we were able to reuse the foundations and basement structures with minimal enhancement and intervention. This meant we could effectively deliver a new building on an existing base, which had significant benefits in terms of carbon reduction. Through recycling these two major substructure elements, substantial cost and programme savings were achieved versus demolishing and re-constructing foundations and basements."
To find out more about how transformative design techniques can be harnessed to produce the best results for your redevelopment scheme, contact Richard Whitehead.