Comprising 67,400 sq ft spread across two six-storey buildings, in addition to 7,098 sq ft of basement, Chimes is a newly built, luxury retirement living scheme in London's Westminster. Arranged around a landscaped courtyard and colonnade, the facility provides 38 exclusive two-bed apartments, a one-bedroom apartment and guest suite for resident's friends and family to use.
Chimes incorporates concierge services and valet parking, together with a wellness area including stretch studio, spa, steam room and treatment room facilities. Residents also benefit from a roof terrace and a courtyard garden room which provides an exceptional focal hub and communal space.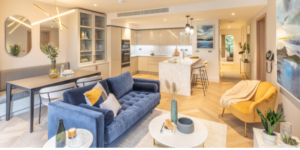 Find an Expert
Click search below to find our closest match.