This major demolition and redevelopment allowed Liverpool's Everyman Theatre to expand its production and participation capacity, bringing it up to date to suit all the 21st century needs of a modern performing arts centre.
Prioritising the re-use of materials from the original building to reduce embodied carbon throughout, the project re-used 90% of the material from the old theatre to create a 400-seat adaptable auditorium, a smaller performance and development space, a large rehearsal room, public foyers, exhibition spaces, catering and bar facilities, along with supporting offices, workshops, Writer's Hub and ancillary spaces. Befitting the theatre's status as a significant community hub, the building's façade was created from a large, collaborative work of public art that is also intrinsic to the control of solar gain.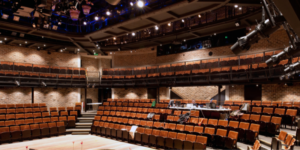 Find an Expert
Click search below to find our closest match.