This six-storey 69,000 sq ft Grade A office building forms part of the Esplanade Quarter masterplan, delivering a major phased development and forming a world-class business hub in the heart of St Helier.
Waterman's team delivered building services, environmental, sustainability and structural engineering design for the base build, and our sustainability experts provided advice to ensure the façade had the optimum levels of glazing to reduce the impact of solar gain, whilst maximising daylight and external views.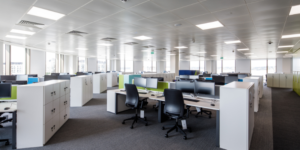 Find an Expert
Click search below to find our closest match.