Recently granted outline planning consent, the regeneration of Basildon's town centre through the Eastgate Quarter scheme will create a new destination for residents and visitors. Based around Leslie Jones Architecture's key vision, the ambitious plans focus on the creation of four new distinctive character areas within Basildon town centre, which together will form the new Eastgate Quarter.
The Eastgate Centre was built during the 1980s and sits at the heart of the town. Originally the largest covered shopping centre in Europe, Eastgate dominates the eastern half of the town centre, limiting connectivity to the rest of the town. Through Eastgate Quarter developers, Sovereign Centros, aim to reinvigorate the area, transforming the Eastgate Centre site to create an interconnected, attractive and safe gateway to the town.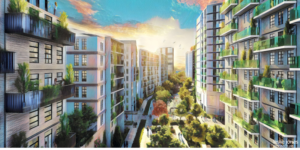 Find an Expert
Click search below to find our closest match.