This £12 million new school provides education facilities for up to 476 pupils in Scotland's Elgin, including Additional Support Needs provision for up to 12 students and space for 40 pre-school children in the nursery area. Built by Balfour Beatty, the scheme replaces the former Linkwood School with a modern facility for the growing local community, providing employment for 53 staff.
The school is part of the overall South of Elgin masterplan which aims to create a fully accessible and adaptable community that promotes sports and healthy lifestyles. Pedestrian links throughout the new school have been carefully integrated with the wider masterplan which also includes 2,500 new homes, a new sports centre, a range of community facilities and a new urban edge with enhanced countryside.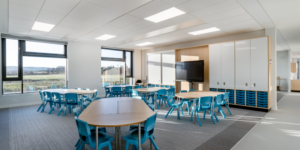 Find an Expert
Click search below to find our closest match.