Manchester Metropolitan University's (MMU) Student Union is a £9m, 23,000 sqm, four-storey scheme accommodating 5,000 students and staff. Designed to be tough, flexible and fun, the facility comprises an entertainment hall, fully fitted night club and bar areas along with retail space, café bar, meeting rooms, offices and fitness studio.
Our team were appointed to provide building services, structural engineering and acoustics for this new build multi-use Student Union located within the city centre MMU campus area. The building design needed to offer flexibility to meet the wide range of potential uses and requirements, with the main hall needing to offer the ability to transform from nightclub venue to sports hall, dining area, exam hall and conference space, all with different operational parameters and requirements.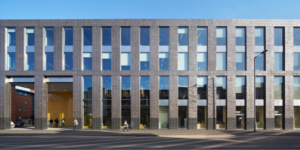 Find an Expert
Click search below to find our closest match.