As part of the historic Victoria Quarter in Leeds, this £165m, award-winning new build development has brought top quality, designer brands to the city centre. The shopping centre adds an additional 30 stores and restaurants to Hammerson's retail portfolio in the city, including a striking flagship John Lewis store alongside elegantly designed arcades consisting of two buildings with stores, restaurants, cafes and leisure space, and a multi-storey car park for up to 850 cars with innovative bespoke cladding.
The Victoria Gate Arcades are designed as a two-storey, twin arcade with a complex roof scape, striking glazed roof and bespoke prefabricated brick and terracotta cladding, delivering a 21st century interpretation of Leeds' 19th century arcades.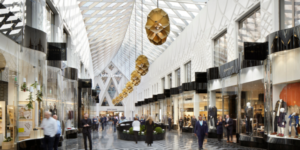 Find an Expert
Click search below to find our closest match.