Oval Village, a major regeneration in London, won the award for Best Mixed-Use Development at the Planning Awards 2021.
Upon completion, Berkeley Homes' scheme will transform the local area, taking a derelict site into a lively community where people can live, work, shop and play. The regeneration of The Oval Gas Works and Kennington Lane will create a community of over 1,300 one, two and three-bedroom homes with over a thousand job opportunities and apprenticeships.
Oval is a vibrant part of the city that offers plenty of green spaces which will provide Londoners with an essence of calm in the heart of London. The +170% net biodiversity gain aims to re-green the harsh landscape and provide a more environmentally friendly way of life with thousands of cycle spaces and car free streets.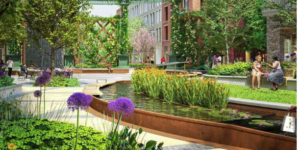 Find an Expert
Click search below to find our closest match.