Barts Square, Helical Plc's exceptional 2.3-acre mixed-use redevelopment of London's St Bartholomew's Hospital, and the London Borough of Southwark's Inclusive Learning Service Key Stage 3 (SILS3), a modern 'Pupil Referral Unit' (PRU) in Peckham, were both winners at the 2022 RIBA London Regional Awards.
Celebrating outstanding work for over 180 years, the awards recognise successful projects that reflect changes and innovations in architecture, whilst displaying a commitment to designing and developing buildings and spaces for the improvement and enhancement of people's lives.
Barts Square
Designed by Sheppard Robson architects, the former St Bartholomew's Hospital site has been transformed into 236 contemporary apartments and penthouses, 258,000 sq ft of commercial offices, and 20,000 sq ft of complimentary retail, restaurant and café facilities across 13 buildings.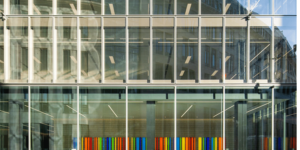 Find an Expert
Click search below to find our closest match.